---
Some Selected Recent Press
The San Francisco Chronicle
The Aislers Set's 1998 debut, "Terrible Things Happen," was an underground hit. Its second full-length CD, 2000's "The Last Match," earned plaudits from the New York Times and Spin, which named it one of 2000's best albums. The CD also made fans of the Magnetic Fields' hyper-critical Stephin Merritt and the members of Belle and Sebastian, who chose the Aislers as opening act on their first American tour. Simultaneously its most eclectic and collaborative recording yet, the CD combines Linton's spare poetry with soulful pop harmonies, punk guitars, dashes of jazz and art-rock improvisation to create a one-band San Francisco soundtrack that's alternately frenetic, somber and celebratory.
The San Francisco Bay Guardian
..."Backwards" coheres because the Aislers Set always use pop as their stylistic springboard: even their most uncharacteristic moments, like "The Train #2"'s punky fuzzbox bop and the acoustic confessional "Unfinished Paintings," aren't all that far from their more recognizably shimmering Shangri-la la la. It's a dreamy blend of girl-pop prettiness, jagged guitar jangle, and harmonic heartbreak that, like its near perfect predecessors, would make Phil Spector misty-eyed with pride - even if he's behind bars when he hears it. Not surprisingly, Linton also continues her exploration of San Francisco life. Neighborhood shout-outs like "Mission Bells" and "Attraction Action Reaction" are some of the band's swoon-worthiest songs yet, with Backwards truly resonating when her friends enter the picture. "Sara's on the roof to watch the sky, the queers and the boys and girls," she sings on "Through the Swells," a wistfully poetic ode to Capp Street, "where all the perverts and shy Mission belles converge." It's this appreciation for everything the city has to offer that makes the Aislers Set so unique. While many musicians pen pretentious manifestos about ways to live and love, Linton prefers simply to report what she experiences. Hers is a pop philosophy that, by prioritizing personal involvement over detached observation, comes off as more inviting than the so-called universal appeal of most songs on the radio. And so, as with discovering all of the quirky intricacies of a new city, it's easy to get lost inside the Aislers Set's S.F., to immerse yourself in all of the stories and spaces that Linton found here. By Jimmy Draper
NME
"How I Learned To Write Backwards" review - What Phil Spector's nightmares sound like... Imagine '60s girl group The Ronettes playing guitars in a deserted school hall at midnight. They're cranking out barbiturate-clouded fuzz as a Motown beat keeps metronomic pace, their beehives nodding in silhouetted syncopation. This is how The Aislers Set sound. Mating the faded spectre of Spector with the nihilism of grrrl punk and a spot of Lynchian disorientation sounds a bad idea on paper, but, in the case of album two from Amy Linton's tragic romantics, it makes imperfect sense. Sleighbells, Cuban trumpets, half-inched Smiths lyrics and chasms of lovely echo all add to an insomnia-like reverie that clings on long after its mere half-hour is up. 7 out of 10. By Mike Carhart-Harris
Mojo Magazine
When The Aislers Set hit their mark, they unveil a knack for tying together extremes without ever settling for the middle ground. Lo-fi and lush layers, tempest and tea cup, girl group and grrrl intensity. On "Emotional Levy", Amy Linton walks her vocals carefully over a spare bass melody like she's lingering ona a balance beam, then comes the drums from way down the hall, and finally the melancholy choir. "Languor in the Balcony" lays that precious pop sound over a surprisingly suitable hardcore beat. The narratives in these songs aren't nearly as plain as the instrumentation... By Martin Aston
The New Yorker Magazine
The vocalist and songwriter Amy Linton, of the San Francisco-area group the Aislers Set, is a nostalgist of the first rank: her voice is recorded with enough dreamy effects to impress Phil Spector, and the band's new album, "How I Learned to write Backwards" is built upon the charmingly blatant use of Motown melodies.
The New York Times
The pop-savvy homecrafters swelling the ranks of indie rock auteurism are mostly male, with women sometimes providing support and winsome vocals. But Amy Linton, a singer and a producer, fits right in with the men in bands like Apples in Stereo and the Pastels. Her rough-hewn but smooth-minded arrangements make her songs, which expand on the fantasy of a well-educated young woman, more than just another round of confession. By Ann Power
The Times of London
My album of 2003 so far is the Aislers Setıs How I Learned to Write Backwards (Suicide Squeeze). The San Francisco outfit is led by the shy, modest, wee Amy Linton, a former professional snowboarder, building designer, motorcycle chick and writer of pop perfection. On their third album, the Aislers magically emerge with the glory hinted at by the divine Bang Bang Bang, from 2000ıs LP The Last Match. Where Linton used to channel the Shop Assistants and Phil Spector, now she listens to gospel, dub and Missy Elliott. Though the recording could be a touch slicker (Missy, please call Amy when you are done with Madge), Backwards beautifully balances wall-of-sound orchestral-pop and spare vocal bits, spiced with trad indie-pop touches (handclaps, fingersnaps). The slow sad tunes of love and death and sex and family are the most poignant: Emotional Levy and Unfinished Paintings reveal Linton as an indie torch singer with a dark side. By Gail O'Hara
The Village Voice
How I Learned to Write Backwards was recorded in Amy's garage. If I had a garage I would want it to sound like Amy's! All echo and space and hush, like she took out the rakes and lawn mower before letting the tape roll. Any phony Tinkertoy girl group sounds with Spectorian drywall and wan straight A's-and-hair schoolgirl warblings are by this point in time not only homages to Leslie Gore or Wendy & Bonnie, but also haunted by the specters of '80s icons Marine Girls, Oh Ok, Shop Assistants, and even the Adult Net or Fuzzbox. Heck, even the spirit of Let's Active's Faye Hunter could be haunting Amy's garage-from the ghost of Mitch Easter's garage! It blows me away when someone can make nostalgia for the '60s or the '80s, or in this case both, sound relevant or recent or worth swooning over. I just can't decide whether my theme song is "Mission Bells" with its urgency, sunshine, doubt, and ability to make me feel like Rory Gilmore dreaming of Dean, Jess, and my future at Yale, or any of the songs that feature blocks of wood, fuzz guitar, and sleigh bells. It'd make the perfect soundtrack for director Owen Anderson's next foray into Franny & Zooey-land. By Scott Seward
The Washington Post
The final song on the Aislers Set's new album is called "Melody Not Malaise" and the San Francisco band's performance at the Black Cat on Tuesday night came across like a manifestation of that title: The quintet married the haunting melodic whomp of 1960s girl-groups like the Crystals to the energetic churn of do-it-yourself English post-punk.
While "How I Learned to Write Backwards," the Aislers' latest disc, suffers from a couple of desultory patches where leader Amy Linton's voice drifts aimlessly, there were no such lulls in Tuesday's sprightly 50-minute set. Linton spent the night peering sheepishly from the stage, but sang and played guitar (and occasionally trumpet) with great assurance, mixing songs from "Backwards" with older tunes such as "The Way to Market Station" and "The Red Door," which chimed like lost nuggets from the first wave of indie pop. In the middle of a two-month U.S. tour, the band sounded road-tested tight, and drummer Yoshi Nakamoto and bassist Alice VandenHeuval clicked with an urgency not evident on the group's recordings.
Linton's songwriting currently lacks consistency, but she frequently hits thrilling highs, and the live interpretations of her best new songs -- "Catherine Says," "Through the Shells" and the fabulous "Languor in the Balcony" -- made the Aislers Set seem like some of the most charming U.S. indie-rockers going.
The San Francisco Weekly
If you're gonna form a band that plays your vision of the sometimes-bland sounds of British indie pop, you'd better make sure that band is top-notch. That's the lesson you'll take away from the Aislers Set, the brainchild of Amy Linton, former singer/guitarist of local noise-pop combo Henry's Dress. In 1997, Linton holed up in her garage with her guitar, drums, and other gear and wrote and recorded the intimate, airy, Belle & Sebastian evoking foundation of the Aislers Set's debut album, Terrible Things Happen. Combining that with the mod-ish, jangly fare she conjured out of her collaboration with Track Star guitarist Wyatt Cusick, Poundsign bassist Alicia Vanden Heuvel, and Scenic Vermont drummer Yoshi Nakamoto, Linton made the Aislers Set a critical and popular favorite here in the Bay Area.
Although the Set's subsequent albums -- 2000's The Last Match and this year's How I Learned to Write Backwards -- have seen it touching on psychedelia and '60s soul-pop respectively, Linton's solid songwriting and coy vocal style remain the band's signatures. That kind of locus has earned it local gigs with pop heavyweights such as Magnetic Fields, not to mention an opening slot on a current U.S. and Canadian tour with indie heroes Yo La Tengo. Scene pundits can argue all night as to whether the Aislers Set is the Bay Area's best band, but you'd be hard pressed to find such a conversation in which Linton and her supergroup were not at least mentioned.
Pitchfork
How I Learned to Write Backwards Rating: 7.9
We're surrounded by pop music, yet it's rare to find full albums packed solid with irresistible, brain-picking hooks, melodies so catchy you can identify the exact note or syllable that addicts you. How I Learned to Write Backwards is the rare exception. Never merely "nice" or "fun," Amy Linton's songs are chiseled like diamonds, and set to some of the coolest arrangements ever taped in somebody's basement.
More spacious and lighter on the guitars than the Aislers Set's first two albums, How I Learned to Write Backwards shows Linton, the band's writer/producer/singer, in a full 60s pop pastiche. You can find the obvious nods to Laura Nyro's stoned soul melodies and the most mesmerizing basslines ever given to Nancy Sinatra; "Through the Swells" all but rips off the bubblegum classic "I Saw Mommy Kissing Santa Claus", and the harmony vocals on "Emotional Levy" have the grace of a choir of French schoolgirls in matching soft blue uniforms.
Here, Linton's indie quintet becomes a pop orchestra. The band's music is denser than ever before, laden with sleigh bells, handclaps and horns piled atop the conventional guitars, drums, bass and keyboards-- and all are drenched in cavernous reverb, providing the ambiance and intimacy of a gigantic, empty concert hall. And yet, this is also a noise-pop band: Beneath the layers of instrumentation, the music is propped up on barbed wire, unsteady and ready to topple.
The tracks are short: The single, "Missions Bells", is one of the few to break two minutes, and "Langour in the Balcony" seems to end before it's even started. And the band cuts quickly from one influence to the next-- the gingerbread candy house of "The Train #1" runs into the rumbling punk guitars on "The Train #2"; the massive, verbose pop of "Attraction Action Reaction" balances the spooky-bleak voice and barely-the-will-to-strum guitar on "Unfinished Paintings". The noise makes the pop spark, and the soul influence makes the nervous energy digestible. Linton mixes and paces all of these elements flawlessly, but what's more, the engineering is extraordinary for its budget, carefully crafted but fun and spontaneous.
The only problem is Linton's singing. It's not that she's not a great singer (well, maybe partly)-- the issue is how she records her voice. On almost every track, she Spectorizes herself in oblivion with effects and reverb added to, presumably, lend a distant and dreamy effect. Sometimes it works (the late-night loneliness on "Unfinished Paintings" is poignant), but at other times, she sounds completely displaced. The most unfortunate example of this comes on the album's closer, "Melody Not Malaise", where the band is recorded with minimal post-production trickery while Linton is mixed far too low beneath the instrumentation, and reverbed into the stratosphere. Maybe she's not happy with how her voice or words sound unaided, but I'd rather be given the opportunity to connect to them than be left guessing.
This, however, may be How I Learned to Write Backwards' only shortcoming, and when stacked up against such effortless, finely-crafted pop tracks, it almost seems trivial. These songs are blanketed in a magnetic charisma, and contain a vigor and effortlessness that projects youthful vitality and a joyousness unhampered by looming adult concerns. It's pure fun-- insanely, immediately likable, and ingenious in how much it achieves. By Chris Dahlen
---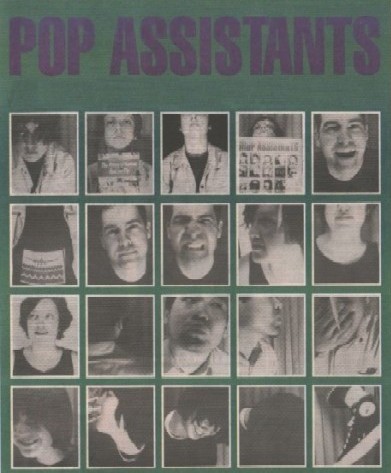 Cover of the San Francisco Bay Guardian May 2000 Noise Supplement. Click on any one of us to read it!
All other reviews and interviews are at the Slumberland site.